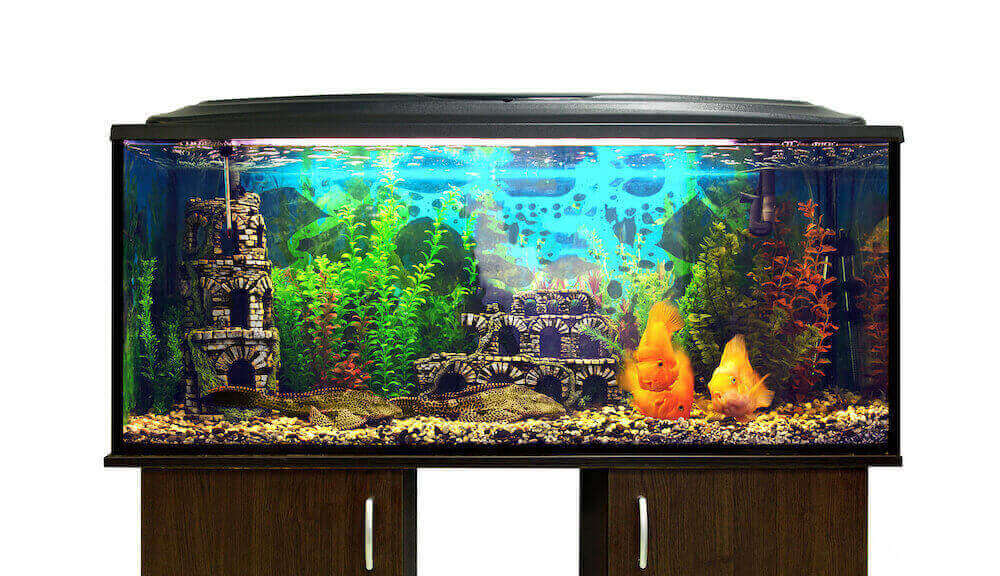 The most famous aquarium tank size for home-usage is the 75 gallon tank. It is the best fit for fish keepers who have rich experience in rearing aquatic animals.
The stand size is perfect; it is neither small nor too large. Anyone can easily keep fishes in it and easily maintain them single-handedly, without needing extra hands. With its large size, there are many living organisms and items you can put in it. They include fishes, plants, and decorations.
Many people believe that large aquariums are difficult to handle and require more money and dedication to maintain than smaller ones. This belief is untrue. Larger aquariums are easy to maintain because they hold more water. The more water in a tank, the easier it is for the aquarium to self-regulate itself.
Recommended 75 Gallon Aquarium Stands
Stands that can carry a 75 gallon tank are no lightweight. You need a durable and robust platform to handle its weight even in full capacity without any crack or damage. Apart from its quality, you may also want some extra features such as beauty and equipment concealment.
With so many 75 gallon aquarium stands flooding the market, these are the best three that offer the best value.
---
1) Aquatic Fundamentals Aquarium Stand (Storage Included)
This stand is the perfect supporting structure for rectangular aquariums. It is acquirable in five different sizes, of which one is a suitable match for a 75-gallon aquarium tank.
The design of the stand is simple, sleek, and ultra-modern. It consists of a dual frontal door and free space at the back. You can attach the cords and extensions needed here.
The stand comes with full storage support for filters, pumps, and other equipment needed to power the aquarium. Its size variation for a 75-gallon tank weighs 87 pounds with a dimension of 49. 37″L x 19. 37″W x 28. 25″H.
If you are an aquatic lover with a large fish tank to care for, get this stand.
The material used to construct it is thick fiberboard, and it has a robust coating that makes it moisture resistant. Changing the platform due to soft or decaying woods from moisture pressures is not a problem.
Pros:
A straightforward guide.
Easy to set up.
Perfect fit for acrylic tanks.
Modern and sleek design.
Dense fiberboard makes it sturdy to carry a 75 gallon tank.
Moisture resistant coating.
Cons:
Lack of storage shelves.
Impossible to adjust.
---
2) Ameriwood Home Flipper Harbor 50 to 75 Gallon Aquarium Stand
This aquarium cabinet is ideal for users who want to blend an aesthetically pleasing stand with top-notch capabilities. It is acquirable on the market in four distinct sizes, including the 75 gallon tanks.
The measurement of the stand after assembling is 30.3125″ H x 50″ L x 19.625″ W for the 75 gallon tank size.
The Ameriwood aquarium stand is from particleboard and laminated MDF. You will love its elegant woodgrain finish and closely resembling a dark expresso color. Its finish makes it moisture resistant.
The stand has two free shelves at the center, and it also has two massive doors at the back. It has storage spaces for fish, food, and other essentials.
Pros:
Top-quality design.
Spacious storage components let you store almost any equipment.
Woodgrain finish makes it moisture-resistant.
Cons:
It takes time to assemble, particularly for first-timers.
---
3) Double Aquarium 75 Gallon Stand
This stand is a product of Caitec Bird Toys, a company known for its high-quality and affordable range of products. The company has a track record of producing durable and long-lasting equipment from the finest materials.
The 75 gallon stand has a lovely design that can complement a room's design or stand out as a distinct attraction. It is a multifunctional stand with a special powder coating that can withstand rust and damage from frequent water contact.
Assembling the stand is straightforward and does not involve a learning curve or use of any tool. Within a short period, you can set up the frame. It can easily be disassembled and packed for storage.
The double stand does not just handle the 5-gallon tank's weight load but can also effectively manage a 110 gallon fish tank's limit. It is highly recommendable to use this stand for your 75 gallon aquarium. Why? Over time, the tank's weight will increase as you add fish, living organisms, natural rocks, decorations, and other equipment.
But because the stand can withstand the weight of a 110 gallon tank, it will have no problem handling the additional weight load of a full 75 gallon tank, including accessories.
The double aquarium stand's weight is 23.5 pounds, while its dimensions are 36-1/2″H x 50-1/2″L x 18-1/2″W.
Pros:
High-quality designs that can blend with any aquarium.
It can carry a full 110-gallon tank.
Leading brand with a track record for excellent products.
Easy to assemble (within a few minutes).
It prevents water damage and rust as a result of its powder-coating.
Cons:
---
Buyer's Guide: The Relevance of an Aquarium Stand
The aquarium stand is equally as crucial as the aquarium. Going for lower grade stands can save you some cost, but it will put you at risk of severe damage in the long run.
A low-grade stand may not effectively hold a massive aquarium weight at full capacity, and this can damage the frame, or in the worst scenario, break the aquarium.
The market is full of low-quality stands, either wood or metal. You do not want a situation where your tank stand and the aquarium breaks, floods, and destroys your home items.
One quick way to validate the stand's quality is to check the reviews and properties.
What to Look at Before Selecting an Aquarium Stand?
If the tank you plan on buying is less than 5 gallons in size, you may not have to concern yourself about the stand's full properties. Place it on a wooden platform or counter, and it will serve your needs.
However, if your goal is to use a larger tank, there is no substitute for getting a high-quality aquarium stand. A 75 gallon tank is heavy on its own, now add water, fishes, decoration, and other gears into it, and you have a more significant weight problem.
By using a cheap and substandard stand, you are not only putting the aquarium in danger of destruction but also your home.
Here are some things to weigh before purchasing that aquarium stand.
1) Size, Shape, and Weight
Not every stand is a perfect fit for your tank, even if it is from durable materials. Before buying a frame, get your aquarium's measurement and check the stand to confirm if it is suitable for your tank's size, shape, and weight.
For instance, you have a 75 gallon tank. The standard measurement for a rectangle tank shape is 48 by 18 by 12 inches. Without any addition to the tank, it weighs 140 pounds. At full capacity, it weighs up to 850 pounds!
Another factor to check is the aquarium's shape. There are different types of stands in the market, but they are for several forms — some for rectangular-shaped tanks and others for bow-front.
Buy one that can support the weight, shape, and size of your aquarium. Look into the properties of suitable stands, including their peak weight capacity. Preferably, buy one with an utmost weight capacity higher than your tank's full weight.
2) Material
The type of materials used for your aquarium is not a problem; you can choose any that catches your fancy. However, always consider durable and stable materials that can easily withstand the weight load of your tank.
The two popular types of premium materials recommended are steel and wood. You can choose to get a wooden or metal stand or buy one that combines both.
Generally, metal supports are more durable and can hold more weights than wooden ones. They are also convenient to clean and maintain. Uncoated wood stands, on the other hand, may start to weaken if frequent water spills on them.
3) Space for Equipment
When choosing the suitable aquarium stand, it is essential to check the space it provides to store your gears. Some aquariums do not require much equipment to operate, while others, like reel aquariums, need a lot.
Two categories of aquarium stands exist, the open and closed types. The former work best for regular and classic glass tanks, while the latter are the best picks for enormous aquariums because of their durable structure.
Acrylic aquariums need more robust support to cover their bottom. The closed stand is the perfect choice because of its sturdy build. With them, you get space to store your aquarium equipment without having to crowd the area.
The closed stand helps keep the aquatic space tidy with its concealable storage features. When buying an aquarium stand, consider the ones that have sizeable concealable storage.
4) The Aquarium Stand Height
When buying an aquarium stand, you have to decide the best height for you – short, medium, or long. While you can, in theory, go for any size, the higher the size, the better the viewing pleasure.
A short-length stand will not give you a good view of the tank from top to bottom, while a tall frame may present serious difficulties for you to access the top.
The best stands are a balance between these two extremes. It is smart to get a high enough platform that gives you a clear view of the tank and low enough so that you can easily reach the top conveniently.
Stands not up to 30 inches tall are ideal for watching while in a sitting position, while aquariums visible from a standing or a far spot are usually above the 30 inches mark.
5) The Assembly
Many people do not consider the mechanism of assembling the stand when looking for the best options. The ideal frame should have a simple assembly process, free from complications.
If you are not familiar with stands and their mechanisms, it is best to get an easy to erect. It is no fun having to waste time trying to find a way to assemble it or end up paying extra for someone to help you do it.
Some stands may even require some special tools to assemble. Before making that purchase, check how easy it is to build from reviews.
6) Your Decoration
This consideration is not as crucial as the others. Except you are one for aesthetics, you may not need to spend too much time laboring over the decoration model.
Pick a stand that flows with the decoration of the space where you have the aquarium. You can hire a designer to do painting and design jobs to make it aesthetically pleasing.
Final Thought
It is not uncommon for fishkeepers or aquarists to dedicate all their concentration and alertness towards picking the perfect aquarium. While it is good to choose the right aquarium judiciously, there is no gain if you cannot select the best stand to match it.
Picking the perfect stand is a function of knowing the tank's shape, weight, and features and finding the best platform to compliment. Whether you want a modern and attractive design or a frame with large storage space, one of these three stands reviewed will suit your needs.